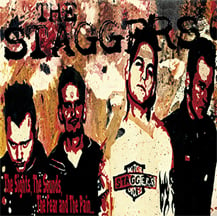 $

9.99
THE STAGGERS The Sights, The Sounds, The Fear & The Pain CD HTR#8
The 1999 debut album from this one of a kind Dallas,TX punkabilly band. Fans of everything from punk, oi, rockabilly, psychobilly, country, and even the odd spaghetti western music afficionado will love this one. Billy Blitz of BRASSKNUCKLE BOYS fame on guitars. And a Joe Blow, tin-can acoustic set as a bonus.
RAZORCAKE described this album recently... "They pump new life into rockabilly by using it as a springboard to cannonball into a new pool of ideas. They pull off a great western themed instrumental. They cover MOTO's song. "Primeval" fuckin spot on (which is super hard, figuring on the damage quirk pop to rockabilly conversion charts are a bitch to compute.) And the clincher? They take lyrics from the great kids book 'Where the sidewalk ends' and make it a song I want to hold a beer over my head and shout along to. An unexpected, fun and cool surprise."
Back in print w/ new bonus tracks and 3 music videos
1. At Your Graveside 2. Last Man On Earth 3. What Are You So Afraid Of? 4. Oblivion 5. Last Great Western 6. Primeval - Moto 7. Unicorn 8. Legacy Of Hate 9. Stagger Lee - Lloyd Price 10.Rapists & Murderers 11. You Won't Live To See Tomorrow 12. Screams 13. Bonus Tin-can 5 Song Acoustic Set BONUS VIDEOS 14. Video - Last Man On Earth 15. Video - Warm Summer Day 16. Video - It Conquered The World.