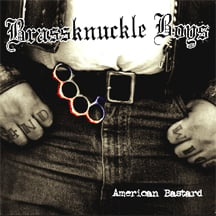 $

9.99
BRASSKNUCKLE BOYS "American Bastard" CD HTR#12
The 2001 Midwest street rock n Oi classic.
Penned in prison, on the road and up the river.
Their debut album. Feat. members of THE STAGGERS
12 tracks, color booklet.
1.Until That Brother Dies 2.Sunday Morning Coming Down(KRIS KRISTOFFERSON)
3.Fighting Poor 4.Boulevard Of Broken Dreams(HANOI ROCKS) 5.Murder Or Manslaughter
6.Jimmy Coonan 7.Busted & Disgusted 8.Vultures 9.From My Heart
10.Vet Named Ted 11.First Signs Of Light 12.The Voice.